Become Involved With UK Dirt - The Number 1 Online Racing League!
Membership to UK-Dirt is free, but there is a fee for drivers who want to race in our main leagues. These are run on a rented super servers, which allows us to run with up to 26 cars per race. The fee covers you for all formulas until the start of the next season(March/April).
For the best online racing action, join today, become part of the UK Dirt family.
Leek39 at Barford

Forthcoming Fixtures
F1
Venue:
Baarlo (Long Track)
Date:
09/04/20
Details:
Dutch ChampionshipF2
Venue:
Sexbierum
Date:
13/04/20
Details:
Bangers
Venue:
Kings Lynn
Date:
14/04/20
Details:
All Volvos & GranadasSSC
Venue:
Buxton
Date:
15/04/20
Details:
WY2
UK Dirt World Champion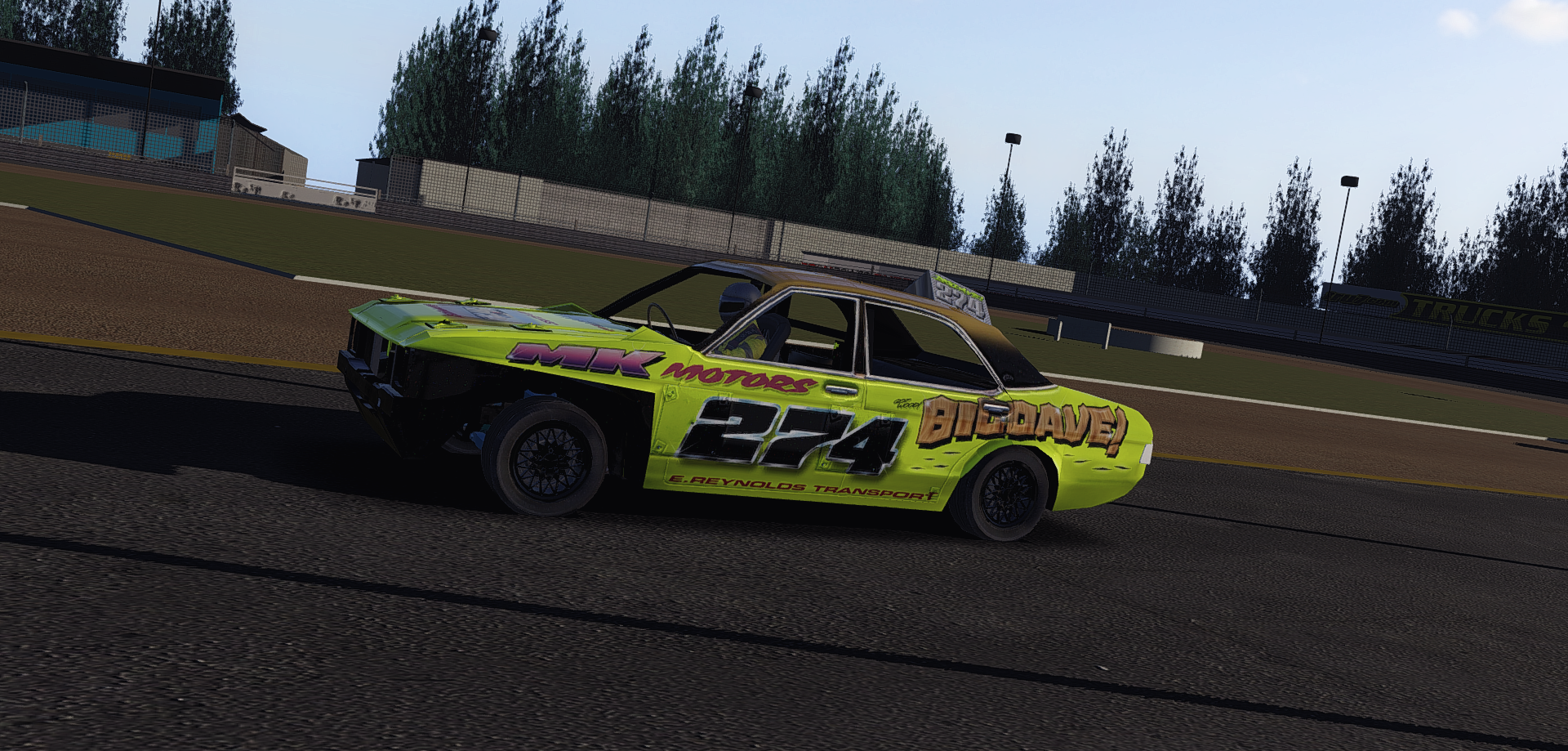 2018 Bangers World Champion:
bigdaveUK, 274
Could You Be Next?
Latest Final Results
Ipswich - 7th April 2020
Bangers
World Qualifying Round 2 - 29 Cars
1st: 151 Dode
2nd: 652 Ryan Simpson
3rd: 212 Pedz
4th-10th: 94 742 39 455 482 698 348


Sexbierum - 2nd April 2020
rFactor F1
WQ6 & WY4 - 52 Cars
1st: 5 Sworder
2nd: 783 d_dickson
3rd: 48 Tinman
4th-10th: 415 51 57 236 777 228 822


Nutts Corner - 1st April 2020
SSC (rFactor)
Irish Open Championship - 68 Cars
1st: 691 Jakeeey
2nd: 653 Ryan Simpson
3rd: 468 BraderzzCooper
4th-10th: 889, 143, 238, 80, 589, 924, 92


Hednesford - 31st March 2020
Bangers
2Litres - 22 Cars
1st: 348 Boyle
2nd: 698 martinj
3rd: 274 bigdaveUK
4th-10th: 652 777 387 266 742 39 482


Ringwood - 30th March 2020
rFactor F2
WY3 - 64 Cars
1st: 715 EgbertDHL
2nd: 236 DanSkin
3rd: 20 MilanSonnemans
4th-10th: 911 1 299 924 889 94 211


National Points Charts
F1 National Points
| | | | | | |
| --- | --- | --- | --- | --- | --- |
| Pos | # | Nick | Meets | Ave | Total |
| 1 | 183 | CharlieGuinchard | 5 | 64 | 320 |
| 2 | 229 | Tsjalle | 5 | 50.6 | 253 |
| 3 | 691 | Jakeeey | 5 | 49.4 | 247 |
| 4 | 468 | BraderzzCooper | 5 | 48.4 | 242 |
| 5 | 238 | Kane_M | 5 | 46.8 | 234 |
| 6 | 889 | Ellis_Rogers | 5 | 34.6 | 173 |
| 7 | 112 | Tom D | 5 | 32.8 | 164 |
| 8 | 783 | d_dickson | 5 | 32.4 | 162 |
F2 National Points
| | | | | | |
| --- | --- | --- | --- | --- | --- |
| Pos | # | Nick | Meets | Ave | Total |
| 1 | 80 | ShayMurphMurphy | 5 | 34.6 | 173 |
| 2 | 889 | Ellis_Rogers | 5 | 29.6 | 148 |
| 3 | 111 | JoshWels | 5 | 29.2 | 146 |
| 4 | 143 | Cammy | 5 | 27.4 | 137 |
| 5 | 1 | Kane_M | 5 | 26.8 | 134 |
| 6 | 229 | Tsjalle | 5 | 26.8 | 134 |
| 7 | 981 | MartinB | 4 | 28.75 | 115 |
| 8 | 184 | Jack Ward | 5 | 22.6 | 113 |
Bangers National Points
| | | | | | |
| --- | --- | --- | --- | --- | --- |
| Pos | # | Nick | Meets | Ave | Total |
| 1 | 742 | Imber | 9 | 39.22 | 353 |
| 2 | 39 | LeeK | 8 | 37.25 | 298 |
| 3 | 151 | Dode | 9 | 32.11 | 289 |
| 4 | 274 | bigdaveUK | 9 | 25.78 | 232 |
| 5 | 212 | Pedz | 6 | 33.5 | 201 |
| 6 | 698 | martinj | 7 | 26.71 | 187 |
| 7 | 652 | Ryan Simpson | 9 | 20.11 | 181 |
| 8 | 348 | Boyle | 8 | 22.38 | 179 |
SSC National Points
| | | | | | |
| --- | --- | --- | --- | --- | --- |
| Pos | # | Nick | Meets | Ave | Total |
| 1 | 238 | Kane_M | 4 | 50.5 | 202 |
| 2 | 691 | Jakeeey | 4 | 49.75 | 199 |
| 3 | 468 | BraderzzCooper | 4 | 39.25 | 157 |
| 4 | 653 | Ryan Simpson | 4 | 37.5 | 150 |
| 5 | 143 | Cammy | 4 | 29.75 | 119 |
| 6 | 455 | Kbarker | 4 | 29.75 | 119 |
| 7 | 889 | Ellis_Rogers | 4 | 29.5 | 118 |
| 8 | 100 | Tomdavison | 4 | 25.25 | 101 |