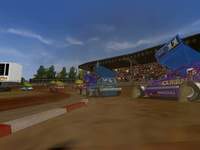 From small acorns...
The year 2000. Internet forums were not fashionable. Those people that did have the internet followed their interests, in the main, via E-groups where people joined the conversation on mass email lists. One such email popped up in March which read:
"Anyone interested in a DTR UK racing league ? I currently only know of about 5 DTR owners are there any more here ?"
The man behind the email was V8 Stock Car driver 282 Darren "Bozz" Summers. A few UK owners of the game would meet up in the Gamespy lobbies and race against the Americans in DTR (Dirt Track Racing) which was a modified Late Model game on dirt ovals. A league was formed for these cars and the name…..UK Dirt - a small league using private servers holding no more than 8 people at a time on "thin" servers. With everyone using dial-up connections it took a lot of effort to make things warp free. Bozz started something that day with one simple email. The meetings in that first season were run by Bozz and 250 Stu "Trash" Harris, one of the few ever-presents still racing in UK Dirt today.
Mid-way through 2000, Ratbag Games came out with a sequel, DTRSC (Dirt Track Racing Sprint Cars). Open wheel racing on dirt ovals and this game became the new focus point for UK Dirt and the drivers pretending their big wing Sprints were really BriSCA F1's! The dream became reality in May 2001 when 55 Andy "Moz" Garton managed to produce our own car for the game, a BriSCA F1 chassis! The tracks in the game were also "skinnable" so whilst you could not build a track you could at least repaint an existing one to resemble a UK venue. The F1 chassis was instantly used by the league to finish the season with.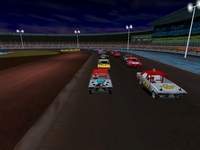 Moz wasn't finished there. At the end of 2001 Nascar Heat was found to be a highly moddable game and Moz set about designing cars for it. Not only could cars be designed but, with the right software and knowledge, tracks could be made as well. This was the start of something big and to this day is still used for all sorts of classes of oval racing.
Moz had found his niche and went on to become a programmer for Simbin who created such great retail games such as GTR and RACE and without him UK Dirt would never have been the success that it's become.
From one email looking for people to race with to 10 years of league action. From one private server using dial-up to three purpose built super servers holding 25+ cars. From 5 drivers to over 330 different drivers have raced league meetings in F1 alone. From one meeting a week to racing every night. Bozz created an animal!
In 2007 a group of guys, called UKSOM, started developing cars & tracks to suite the RFactor game. This resulted in a release of the RFactor F1 game. Development is still in progress, so who knows what the future holds, but it sure looks promising...........
rFactor is the latest game to be used around modding, and the development of the short oval racing formula are continually developing. National Hot Rods and BriSCA F2 stock cars have made the switch to the high resolution game that provides realistic handling and physics features.