Become Involved With UK Dirt - The Number 1 Online Racing League!
Membership to UK-Dirt is free, but there is a fee for drivers who want to race in our main leagues. These are run on a rented super servers, which allows us to run with up to 26 cars per race. The fee covers you for all formulas until the start of the next season(March/April).
For the best online racing action, join today, become part of the UK Dirt family.
f2 action @ birmingham

Forthcoming Fixtures
F1
Venue:
Knockhill
Date:
25/07/19
Details:
WY12F2
Venue:
Taunton
Date:
22/07/19
Details:
Ben FundBangers
Venue:
Northampton
Date:
23/07/19
Details:
European Championship SSC
Venue:
Cowdenbeath
Date:
24/07/19
Details:
Scottish Championship
UK Dirt World Champion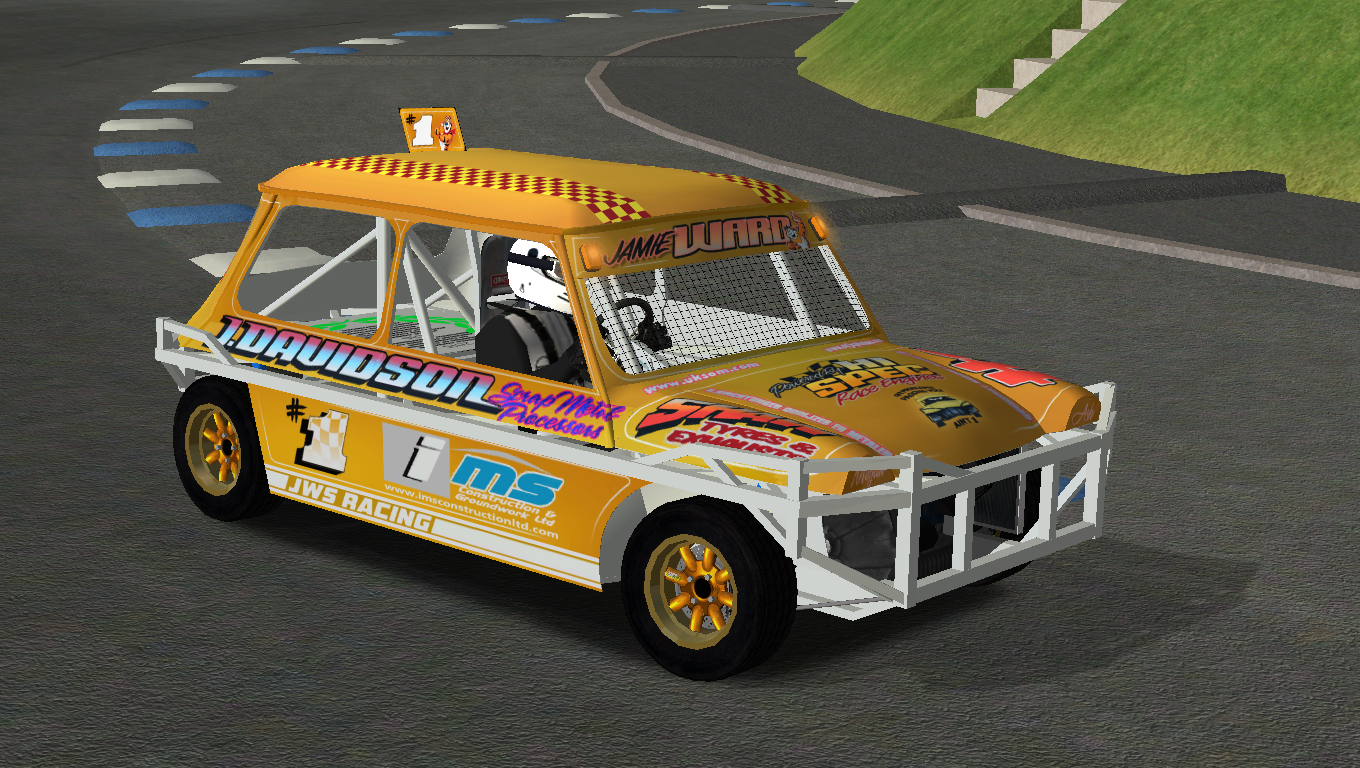 2017 rFactor Ministox World Champion:
Wardieee, 180
Could You Be Next?
Latest Final Results
Northampton (Shale) - 18th July 2019
rFactor F1
European Championship - 32 Cars
1st: 691 Jakeeey
2nd: 112 Tom D
3rd: 48 Tinman
4th-10th: 888 57 777 527 39 143 100


Barford - 17th July 2019
SSC (rFactor)
- 24 Cars
1st: 238 Kane_M
2nd: 143 Cammy
3rd: 889 Ellis_Rogers
4th-10th: 107 39 691 777 122 299 641


Belle Vue - 15th July 2019
rFactor F2
English Championship + W&Y - 28 Cars
1st: 691 Jakeeey
2nd: 981 MartinB
3rd: 100 Tomdavison
4th-10th: 23 777 338 143 238 468 589


Arena Essex - 11th July 2019
rFactor F1
WQR14 + W&Y11 - 29 Cars
1st: 238 Kane_M
2nd: 484 Jack Ward
3rd: 691 Jakeeey
4th-10th: 582 783 20 454 359 211 527


Skegness - 10th July 2019
SSC (rFactor)
UK Open - 30 Cars
1st: 691 Jakeeey
2nd: 468 BraderzzCooper
3rd: 299 Burnsy
4th-10th: 238 889 504 39 107 122 23


National Points Charts
F1 National Points
| | | | | | |
| --- | --- | --- | --- | --- | --- |
| Pos | # | Nick | Meets | Ave | Total |
| 1 | 691 | Jakeeey | 19 | 62.11 | 1180 |
| 2 | 229 | Tsjalle | 14 | 70.93 | 993 |
| 3 | 211 | EmielDeJong | 20 | 44.7 | 894 |
| 4 | 527 | fast track | 20 | 40.7 | 814 |
| 5 | 39 | LeeK | 20 | 39.9 | 798 |
| 6 | 57 | LittleTheo | 20 | 34 | 680 |
| 7 | 777 | HGR | 17 | 35 | 595 |
| 8 | 238 | Kane_M | 11 | 53.64 | 590 |
F2 National Points
| | | | | | |
| --- | --- | --- | --- | --- | --- |
| Pos | # | Nick | Meets | Ave | Total |
| 1 | 981 | MartinB | 20 | 36.3 | 726 |
| 2 | 691 | Jakeeey | 17 | 38.53 | 655 |
| 3 | 211 | EmielDeJong | 19 | 30.16 | 573 |
| 4 | 889 | Ellis_Rogers | 19 | 28.89 | 549 |
| 5 | 229 | Tsjalle | 15 | 34.13 | 512 |
| 6 | 910 | McFerran | 13 | 39.08 | 508 |
| 7 | 777 | HGR | 18 | 26.06 | 469 |
| 8 | 589 | Stijneman | 19 | 22.89 | 435 |
Bangers National Points
| | | | | | |
| --- | --- | --- | --- | --- | --- |
| Pos | # | Nick | Meets | Ave | Total |
| 1 | 39 | LeeK | 15 | 42.6 | 639 |
| 2 | 274 | bigdaveUK | 15 | 38 | 570 |
| 3 | 760 | Ryano | 14 | 34.36 | 481 |
| 4 | 500 | Allstar | 11 | 39.64 | 436 |
| 5 | 151 | Dode | 15 | 26.13 | 392 |
| 6 | 348 | Boyle | 8 | 43.63 | 349 |
| 7 | 223 | sam g | 15 | 18.93 | 284 |
| 8 | 698 | martinj | 5 | 47.8 | 239 |
SSC National Points
| | | | | | |
| --- | --- | --- | --- | --- | --- |
| Pos | # | Nick | Meets | Ave | Total |
| 1 | 39 | LeeK | 18 | 50.83 | 915 |
| 2 | 691 | Jakeeey | 15 | 40.47 | 607 |
| 3 | 777 | HGR | 15 | 38.13 | 572 |
| 4 | 100 | Tomdavison | 15 | 26.33 | 395 |
| 5 | 238 | Kane_M | 10 | 39.2 | 392 |
| 6 | 468 | BraderzzCooper | 14 | 27.14 | 380 |
| 7 | 641 | BryanLee | 15 | 20.6 | 309 |
| 8 | 889 | Ellis_Rogers | 10 | 28.2 | 282 |