Become Involved With UK Dirt - The Number 1 Online Racing League!
Membership to UK-Dirt is free, but there is a fee for drivers who want to race in our main leagues. These are run on a rented super servers, which allows us to run with up to 26 cars per race. The fee covers you for all formulas until the start of the next season(March/April).
For the best online racing action, join today, become part of the UK Dirt family.
F2 blues in action @ Barford 2011

Forthcoming Fixtures
F1
Venue:
Hednesford
Date:
26/10/17
Details:
Tarmac Masters & 2018 WQ2F2
Venue:
Taunton
Date:
23/10/17
Details:
National Series 3 SSC (rFactor)
Venue:
Cowdenbeath
Date:
25/10/17
Details:
Superbowl & Gordon Barclay MemorialMinistox
Venue:
Ringwood
Date:
24/10/17
Details:
Whites & Yellows Final
UK Dirt World Champion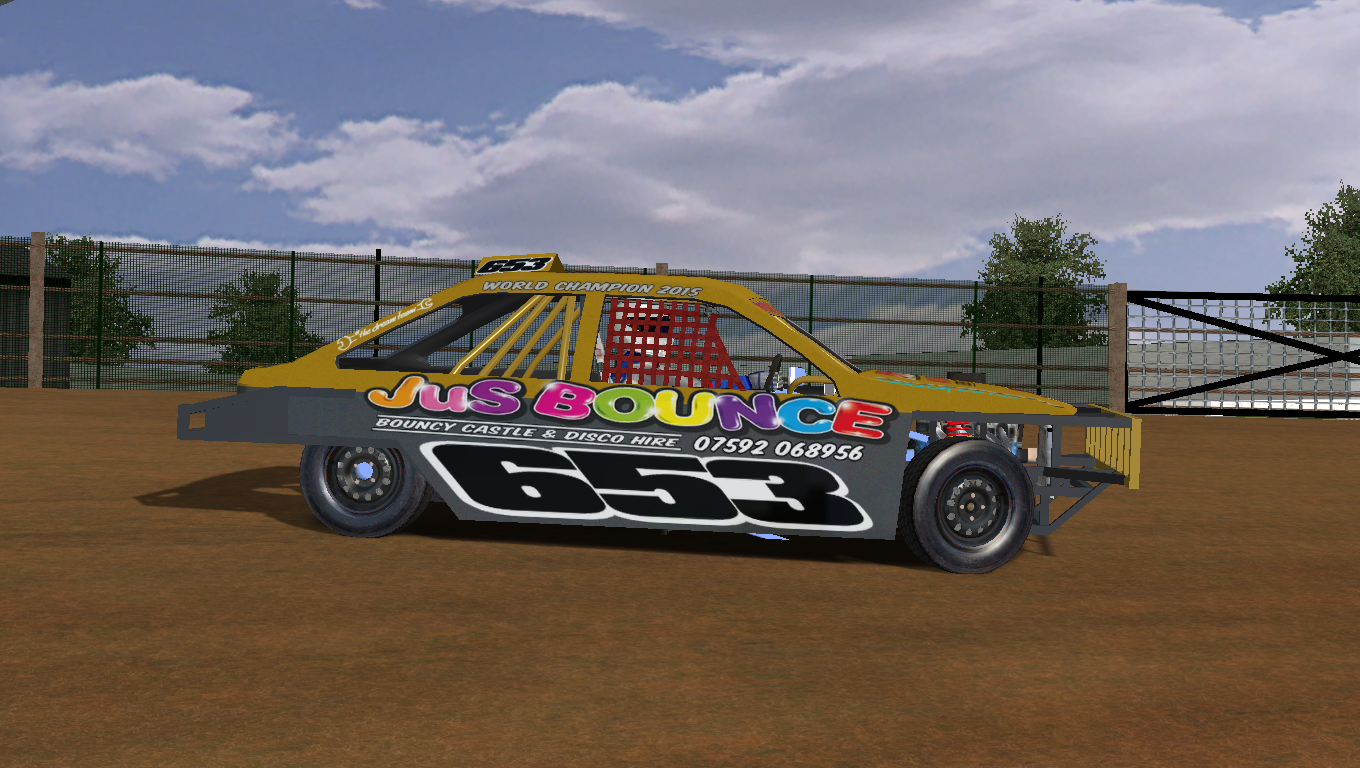 2015 rFactor Saloons World Champion:
Ryan Simpson, 653
Could You Be Next?
Latest Final Results
Mildenhall - 19th October 2017
rFactor F1
World of Shale & 2018 WQ1 - 25 Cars
1st: 691 Jakeeey
2nd: 39 LeeK
3rd: 112 Tom D
4th-10th: 589 291 48 244 167 43 888


Coventry - 18th October 2017
SSC (rFactor)
- 14 Cars
1st: 977 James
2nd: 691 Jakeeey
3rd: 100 Tomdavison
4th-10th: 39 641 237 468 777 92 503


Coventry - 17th October 2017
Ministox

1st: 180 Wardieee
2nd: 236 DanSkin
3rd: 691 Jakeeey
4th-10th: 68 503 102 662 479 667 39 100


Kings Lynn - 16th October 2017
rFactor F2
National Series 2 + W&Y - 24 Cars
1st: 180 Wardieee
2nd: 482 ginger
3rd: 455 Kbarker
4th-10th: 236 44 468 92 671 167 39


Skegness - 12th October 2017
rFactor F1
Shootout3 & WY13 - 22 Cars
1st: 180 Wardieee
2nd: 43 pinken
3rd: 167 CB
4th-10th: 125 555 236 691 229 246 777


National Points Charts
F1 National Points
| | | | | | |
| --- | --- | --- | --- | --- | --- |
| Pos | # | Nick | Meets | Ave | Total |
| 1 | 236 | DanSkin | 27 | 85.85 | 2318 |
| 2 | 112 | Tom D | 28 | 56.21 | 1574 |
| 3 | 229 | Tsjalle | 24 | 61.25 | 1470 |
| 4 | 39 | LeeK | 31 | 42.29 | 1311 |
| 5 | 527 | fast track | 30 | 36.7 | 1101 |
| 6 | 180 | Wardieee | 17 | 62.47 | 1062 |
| 7 | 238 | Kane_M | 22 | 42.32 | 931 |
| 8 | 246 | Stox | 28 | 28.82 | 807 |
F2 National Points
| | | | | | |
| --- | --- | --- | --- | --- | --- |
| Pos | # | Nick | Meets | Ave | Total |
| 1 | 236 | DanSkin | 26 | 43.88 | 1141 |
| 2 | 92 | hoggy | 29 | 30 | 870 |
| 3 | 229 | Tsjalle | 28 | 30.32 | 849 |
| 4 | 180 | Wardieee | 19 | 37.47 | 712 |
| 5 | 39 | LeeK | 33 | 20.67 | 682 |
| 6 | 184 | Jack Ward | 28 | 21.43 | 600 |
| 7 | 981 | MartinB | 30 | 17.63 | 529 |
| 8 | 238 | Kane_M | 25 | 19.4 | 485 |
SSC (rFactor) National Points
| | | | | | |
| --- | --- | --- | --- | --- | --- |
| Pos | # | Nick | Meets | Ave | Total |
| 1 | 39 | LeeK | 32 | 51.19 | 1638 |
| 2 | 236 | DanSkin | 29 | 53.55 | 1553 |
| 3 | 238 | Kane_M | 22 | 37.64 | 828 |
| 4 | 503 | Dane Bell | 26 | 29.62 | 770 |
| 5 | 237 | rickyljames | 30 | 23.4 | 702 |
| 6 | 641 | ironside | 32 | 20.72 | 663 |
| 7 | 468 | BraderzzCooper | 24 | 24.25 | 582 |
| 8 | 800 | BenChambers | 16 | 32.31 | 517 |
Ministox National Points
| | | | | | |
| --- | --- | --- | --- | --- | --- |
| Pos | # | Nick | Meets | Ave | Total |
| 1 | 236 | DanSkin | 21 | 43.86 | 921 |
| 2 | 39 | LeeK | 26 | 35.42 | 921 |
| 3 | 667 | ironside | 26 | 22.81 | 593 |
| 4 | 180 | Wardieee | 12 | 41.58 | 499 |
| 5 | 479 | kevharbord | 24 | 19.17 | 460 |
| 6 | 800 | BenChambers | 11 | 37.45 | 412 |
| 7 | 777 | HGR | 20 | 17.4 | 348 |
| 8 | 102 | Chewy Junior | 22 | 15.55 | 342 |