Become Involved With UK Dirt - The Number 1 Online Racing League!
Membership to UK-Dirt is free, but there is a fee for drivers who want to race in our main leagues. These are run on a rented super servers, which allows us to run with up to 26 cars per race. The fee covers you for all formulas until the start of the next season(March/April).
For the best online racing action, join today, become part of the UK Dirt family.
Spike JNR in the pits at Coventry - 18th March 2010

Forthcoming Fixtures
F1
Venue:
Belle Vue
Date:
29/06/17
Details:
WQ11 & WY9F2
Venue:
Skegness
Date:
03/07/17
Details:
UK Open & WQR SSC (rFactor)
Venue:
Yarmouth
Date:
28/06/17
Details:
W&Y8Ministox
Venue:
Skegness
Date:
27/06/17
Details:
UK Challenge & W&Y
UK Dirt World Champion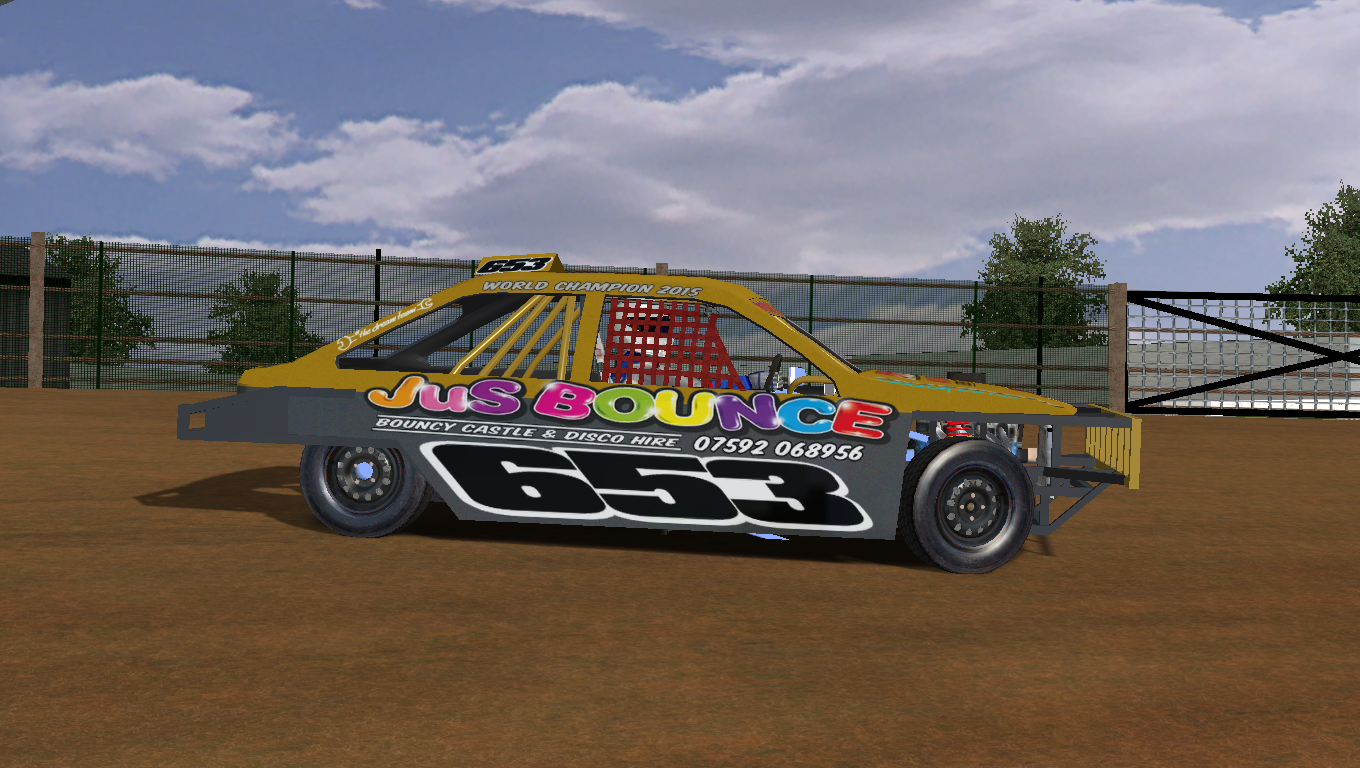 2015 rFactor Saloons World Champion:
Ryan Simpson, 653
Could You Be Next?
Latest Final Results
Scunthorpe - 26th June 2017
rFactor F2
WQR & W&Y - 28 Cars
1st: 889 Ellis_Rogers
2nd: 229 Tsjalle
3rd: 981 MartinB
4th-10th: 92, 800, 21, 184, 39, 503,167


Cowdenbeath - 22nd June 2017
rFactor F1
Scottish Championship - 30 Cars
1st: 167 CB
2nd: 229 Tsjalle
3rd: 246 Stox
4th-10th: 236 43 527 39 346 100 79


Kings Lynn - 20th June 2017
Ministox
WCQR
1st: 84 Jack Ward
2nd: 777 HGR
3rd: 968 BraderzzCooper
4th-10th: 667 237 479 39


Bristol - 19th June 2017
rFactor F2
British Championship - 30 Cars
1st: 1 Wardieee
2nd: 229 Tsjalle
3rd: 236 DanSkin
4th-10th: 599 184 468 246 44 117 167


Stoke - 15th June 2017
rFactor F1
WQ10 & WY8 - 26 Cars
1st: 112 Tom D
2nd: 236 DanSkin
3rd: 17 Dan W
4th-10th: 229 238 39 1 589 527 281


National Points Charts
F1 National Points
| | | | | | |
| --- | --- | --- | --- | --- | --- |
| Pos | # | Nick | Meets | Ave | Total |
| 1 | 236 | DanSkin | 13 | 82.92 | 1078 |
| 2 | 112 | Tom D | 13 | 68.23 | 887 |
| 3 | 229 | Tsjalle | 13 | 67.08 | 872 |
| 4 | 39 | LeeK | 14 | 42.14 | 590 |
| 5 | 238 | Kane_M | 13 | 41 | 533 |
| 6 | 527 | fast track | 14 | 37 | 518 |
| 7 | 1 | Wardieee | 9 | 54.22 | 488 |
| 8 | 246 | Stox | 14 | 30.86 | 432 |
F2 National Points
| | | | | | |
| --- | --- | --- | --- | --- | --- |
| Pos | # | Nick | Meets | Ave | Total |
| 1 | 236 | DanSkin | 12 | 41.33 | 496 |
| 2 | 92 | hoggy | 15 | 30.27 | 454 |
| 3 | 229 | Tsjalle | 14 | 32.36 | 453 |
| 4 | 184 | Jack Ward | 17 | 25.88 | 440 |
| 5 | 39 | LeeK | 17 | 23.88 | 406 |
| 6 | 1 | Wardieee | 10 | 38.7 | 387 |
| 7 | 238 | Kane_M | 17 | 17.94 | 305 |
| 8 | 981 | MartinB | 15 | 18.53 | 278 |
SSC (rFactor) National Points
| | | | | | |
| --- | --- | --- | --- | --- | --- |
| Pos | # | Nick | Meets | Ave | Total |
| 1 | 39 | LeeK | 12 | 50 | 600 |
| 2 | 236 | DanSkin | 11 | 54.27 | 597 |
| 3 | 238 | Kane_M | 11 | 37.91 | 417 |
| 4 | 468 | BraderzzCooper | 12 | 26.67 | 320 |
| 5 | 92 | hoggy | 6 | 39.33 | 236 |
| 6 | 146 | CrashleyEngland | 11 | 21.27 | 234 |
| 7 | 647 | Samson | 10 | 21.8 | 218 |
| 8 | 641 | ironside | 12 | 17.33 | 208 |
Ministox National Points
| | | | | | |
| --- | --- | --- | --- | --- | --- |
| Pos | # | Nick | Meets | Ave | Total |
| 1 | 236 | DanSkin | 9 | 39.22 | 353 |
| 2 | 39 | LeeK | 9 | 31.44 | 283 |
| 3 | 800 | BenChambers | 6 | 38.5 | 231 |
| 4 | 667 | ironside | 9 | 18.67 | 168 |
| 5 | 80 | ShayMurphMurphy | 7 | 24 | 168 |
| 6 | 976 | rik | 6 | 24.5 | 147 |
| 7 | 777 | HGR | 8 | 17.38 | 139 |
| 8 | 479 | kevharbord | 9 | 15.33 | 138 |